Prince of Wales visits Redcar steel plant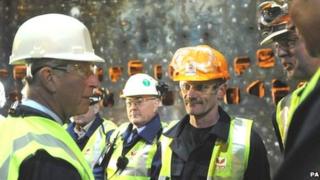 The Prince of Wales has visited a steel plant in Redcar and community projects on Teesside.
Prince Charles visited SSI Teesside ahead of the blast furnace being restarted at the plant in December.
He also visited the Redcar Development Trust and the Prince's Trust Centre in Middlesbrough to see how they have progressed.
The visits reflect his support for heritage-led regeneration and his charity's work.
The steel plant was mothballed in February 2010, when it was owned by Tata Steel, and subsequently bought by Thai firm SSI in March 2011.
The Prince visited Redcar in 2010 after the plant was closed and was touched by the community's battle to find a buyer.
New employees 'excited'
The first group of people who successfully applied for posts at the plant started work on 11 October.
Dave Johnson, general manager of ironmaking, said: "[The visit] validates this whole process of starting the works up again, it's fantastic.
"We've just taken on our first five employees at the blast furnace and they're all excited."
John Baker, from SSI Teesside, said: "His Royal Highness has great concerns and he has given support to restart steelmaking and he wants to see what progress has been made so it's a big honour for us."
Peter Whitfield, project engineer, was an apprentice when the furnace was built 35 years ago.
He said: "It's a great day for Teesside. We are dedicated to bringing the furnace back on and to have Charles' endorsement is a great honour."
Prince Charles rounded off his visit by joining a discussion about regeneration projects with volunteers, business leaders and council representatives in Redcar.