Darlington florist shocked after exotic frogs found in delivery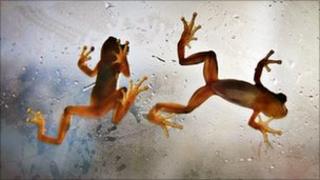 Staff at a Darlington florist were left screaming in shock after four exotic frogs hopped out of a delivery box.
Workers at Flowers by Nattrass were carrying out their usual task of unpacking their flower delivery when the "little frogs hopped out".
The amphibians are believed to be Amazonian Milk frogs and travelled all the way from Columbia to the shop via their supplier in Holland.
Owner Sally Bennett said "there were lots of screams" after their encounter.
The family florists, which has been running for over 50 years, has never found anything unusual in its flower deliveries before.
"One of my colleagues opened the box and two [of the four] little frogs hopped out... as you can imagine it was quite shocking.
"There was lots of screams... the girls were quite frightened by them," said Mrs Bennett.
The three members of staff were concerned the exotic animals may have been poisonous, so Mrs Bennett rang her husband Mark to come and help the girls "round them up and capture them in a vase".
The one-inch long frogs, described as a green/brown colour, are now with a local animal breeder.
Mrs Bennett said: "We've never had anything like this before. I think we'll be extra careful when opening deliveries from now on."