Teesside MPs call for school finance lessons on curriculum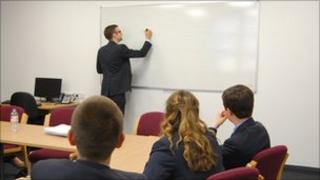 Two Teesside MPs have backed calls to put finance lessons on the national curriculum.
An e-petition appealing for it to be made compulsory has been signed by more than 72,000 people.
Darlington Labour MP Jenny Chapman and Stockton North Labour MP Alex Cunningham have both added their support to the plan.
Ms Chapman said there was a "big gap" in what young people were taught about managing money and debt avoidance.
Mr Cunningham believes teaching the subject would make people aware of the financial products on offer.
"When I walk up to my office in Stockton I pass what I call legal loan sharks, where they offer products which end up costing young people two or three or four times what they could get in a reputable store," he said.
'Level of naivety'
Explanations about credit cards and APR rates are already being taught at Carmel RC College in Darlington.
Cash was put on the curriculum to help pupils organise their money and prepare for adult life.
"I think there was a certain level of naivety, you can just float through life.
"It's about acquiring skills which will equip them in the real world," said tutor Michael Hughes.
The college felt it was important to make the subject as interactive and engaging as possible - getting local entrepreneur and Dragon's Den star Duncan Bannatyne to visit as part of the course.
"We've been trained about avoiding debt and how to prioritise what you need to buy like gas and electricity, ahead of Sky TV and the internet," said year 11 student James.
Sixth form student Hannah found the financial know-how particularly important as she is preparing to go to university next year.
She said: "Obviously we are in college now and we have the reality of everything we have to pay for in university with tuition fees increasing.
"Debt and loans and student loans and how we pay them off - it's vital for us to know that."