Bishop Auckland Roman fort features on BBC's Digging for Britain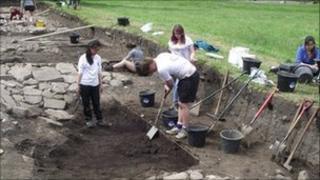 A Roman fort in Bishop Auckland will unveil new glimpses of Roman life in Britain when it features on a BBC Two programme later.
Footage of an excavation carried out over the summer at Binchester Roman Fort is being aired on Digging for Britain.
The episode follows a team from Durham University's Department of Archaeology as it uncovers the remains of very late Roman activity at the fort.
The programme, presented by Dr Alice Roberts, shows evidence from Binchester of large-scale leather production dating to the late 4th and early 5th Century.
They hope the findings will shed new light on the last years of the Roman Empire in Britain.
Dr David Petts, from Durham University's Department of Archaeology, said: "This year's excavations at Binchester have proved very exciting.
"We have gained a new understanding of life in County Durham in the twilight years of the Roman Empire."
Binchester was established in the later 1st Century and was once the largest Roman fort in County Durham.
Other structures and artefacts found by the team indicate continued occupation at the site into the early medieval period.
They also uncovered an important inscription from the 2nd Century suggesting the presence of a small shrine at the site.
The excavations featured on the programme were carried out as part of a five-year project at the site.
Dr David Mason, manager of Binchester Fort, said: "The new programme of excavation and research is shedding new light on many different aspects of the Roman fort at Binchester and its extensive civil settlement.
"It's also enabling local people to get directly involved in the investigation of their heritage."
Digging for Britain is on BBC Two at 21:00 BST on Friday, 9 September.