Over-demand Hartlepool hospital meeting rescheduled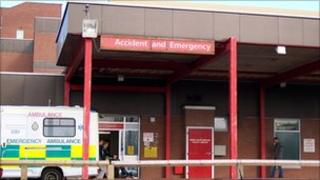 A meeting about hospital services in Hartlepool will have to be rearranged because so many people turned up.
The University Hospital of Hartlepool's accident and emergency unit was closed last month despite protests.
An extraordinary meeting was set up by Hartlepool Council at the Civic Centre on Thursday.
It had arranged seats for 60 members of the public but about double that number turned up and there are now plans to hold the meeting at a bigger venue.
The unit closed after a review concluded it could not attract enough senior staff to run the service safely.
North Tees and Hartlepool NHS Trust said the majority of patients would be treated at Hartlepool's £20m One Life centre, in Park Road, or the emergency assessment unit at Hartlepool's hospital.
A small number of patients would be taken to the A&E unit at North Tees Hospital, in Stockton, it said.
Campaigners believe a town the size of Hartlepool should have an A&E department.
Independent councillor Geoff Lilley, who is vice chairman of Hartlepool's Save Our Hospital campaign, said it should have been anticipated how many people would be there.
'Matter of urgency'
He said: "I think there should have been a simple recognition that whenever this issue has been discussed in Hartlepool the people of Hartlepool have shown their interest and their concern.
"I requested that meeting as a matter of urgency four weeks ago. We're now going to wait another three weeks."
Council chairman Carl Richardson admitted a bigger venue should have been used.
He said it showed people in the town had real concerns about the issues.
He said: "We are going to get a bigger venue and make sure that we can get everybody in. It's a lesson we need to learn from."