Teesside University Darlington campus opens to students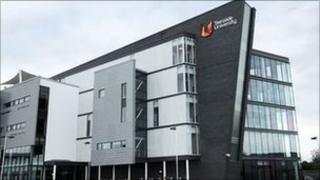 A new Teesside University campus is opening its doors to prospective students in Darlington.
The £13m complex, in Central Park next to the existing Darlington College, will cater for about 1,200 mostly part-time students.
On Saturday the site was hosting its first open day so visitors could learn more about available study options.
The campus has received funding from regeneration agency One North East and Darlington Council.
The university's vice chancellor, Graham Henderson, said: "This move to develop a university presence in Darlington is a pivotal part of our plans for the future.
"All of us are very much looking forward to the exciting new higher education opportunities that will add to the Teesside University provision already being delivered through the university and our close partners Darlington College."