'Record' number of Harbour seal pups born in Teesside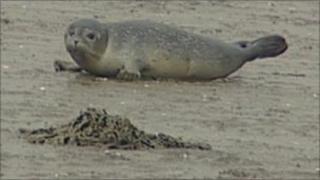 A "record" number of harbour seal pups have been born at a Teesside reserve, the Industry Nature Conservation Association (INCA) said.
The baby boom at Teesmouth National Nature Reserve means the colony now has 16 new arrivals to the already 100-strong family - making it the north-east of England's biggest pod of seals to date, the INCA said.
The seals first arrived in Seal Sands on Teesside in the late 19th and early 20th Century.
However, as industry developed and the mud flats were reduced in numbers, they disappeared.
As environmental quality of the Seal Sands began to improve during the 70s and 80s, the Harbour and Grey seals returned and their numbers have been increasing every year.
Teesside 'icons'
The colony is now one of the biggest on the east coast.
Bob Pailor of the Industry Nature Conservation Association, said: "They're iconic for Tees Valley.
"It is an indication that we have a very healthy environment and industry and nature are working well together.
"To see seals hauling with a backdrop of distillation columns and chemical factories is fantastic, it's unique."
The pups are now ready to survive on their own after weaning from their mother for the first six weeks of their life.
In the next few weeks they will leave Teesside and find new homes for the winter.
By next spring visitors will be able to watch the seals from a safe location when the first seal hide is built on the River Tees near Seaton Carew thanks to a £40,000 project funded by Tata Steel.