Rare moth spotted in Coatham Wood near Middlesbrough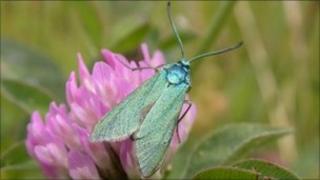 A rare moth has been seen in force at a Forestry Commission wood in north-east England.
More than 1,200 green-winged forester moths have been recorded in the 200-hectare (500-acre) man-made Coatham Wood at Long Newton near Middlesbrough.
Butterfly Conservation said the discovery made Coatham the best known site in the UK for the moth, that is declining in numbers.
Dave Wainwright, from the conservation, said: "It is tremendous news."
The discovery was made on a 2.5-hectare (6.23-acre) wildflower meadow alongside the main woodland at Coatham, which was planted with 500,000 trees after the Forestry Commission bought the site in 1999.
Ian Blair, from the Forestry Commission, said: "We set out to create a range of habitats, including mixed woodland, forest glades and ponds and we also sowed nearly six hectares of former wheat fields with wildflower seed.
"It's always good to hear of wildlife thriving rather than declining and the wonderfully named Forester moth could almost be Coatham's new emblem."