Statue of former Darlington player Arthur Wharton unveiled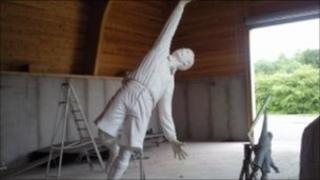 A commemorative statue of the UK's first black professional footballer - goalkeeper Arthur Wharton - has been unveiled for the first time.
The former Darlington player played for the Quakers in the late 19th Century.
The Arthur Wharton Foundation commissioned the statue after its founder Shaun Campbell started an appeal to honour the legend.
The 9ft (2.7m) bronze statue has been made by sculptor Vivien Mallock in Hampshire.
Ms Mallock also created the Brian Clough statue in Albert Park, Middlesbrough.
Donations from the public and help from the pop star Stevie Wonder and footballers George Boateng and Rio Ferdinand helped the statue become a reality.
The FA also made a donation of £20,000 towards the building of the statue.
Mr Campbell said he saw it for the first time at the weekend.
He said: "I can't explain it, it's just wonderful to get to this point where the reality of the statue becomes so much closer to home and to see the kind of scale and the perspective of it is gratifying to say the least, it really really is.
"When I first walked in and saw it you could have knocked me down with a feather.
"This guy was the world's first ever professional black footballer and also the world's first 100-yard sprint record holder.
"You start to realise that the tribute to the man, the testament to him needs to be as large as he was in character and I think Viv has captured that beautifully.
"That is a statue fit for somebody like Arthur Wharton without a doubt."
It is hoped that the statue will be permanently on show in the region by the end of the year.