Staff shortage shuts Bishop Auckland maternity unit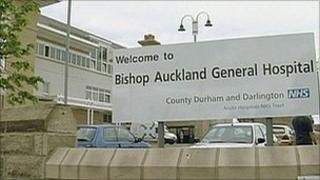 A hospital maternity unit in County Durham is to temporarily shut because of a shortage of midwives.
The unit at Bishop Auckland General Hospital will close for two months from July while more staff are taken on.
County Durham and Darlington NHS Foundation Trust said the shortage meant it could not guarantee the safety of patients.
The unit, which caters for about 350 women a year, will shut from 2 July until 5 September.
Director of Nursing Laura Robson said: "The unit operates with a small group of staff. Some have left and although we are recruiting replacements, these will not be in post until the beginning of September.
"This means that, between 2 July and 5 September we do not have enough midwives to cover all rotas safely. This also means we cannot guarantee safe care 24 hours a day for women using the unit.
"We have taken steps including moving midwives from Durham and Darlington, but given that high risk deliveries take place there we need to keep staffing levels safe there too.
"The trust is contacting the women who are booked to have their babies in the unit to discuss alternative birth plans."