Hartlepool University Hospital A&E unit to close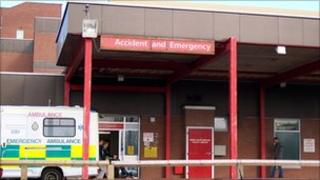 The accident and emergency unit at Hartlepool's University Hospital is to close in August, it has been confirmed.
North Tees and Hartlepool NHS Trust said A&E care would be provided at the town's £20m One Life centre in Park Road from 2 August.
Campaigners involved in an eight-year battle to save the unit described the decision as "devastating" for the town.
A recent review concluded the department could not attract enough senior staff to run the service safely.
Director of commissioning and system development at NHS Hartlepool Ali Wilson said: "Adults and children with less serious accidents, injuries and illnesses will be able to go to the urgent care centre at One Life Hartlepool in Park Road.
'Significant implications'
"There they will be directed to either the minor injuries service, the walk-in centre or the out of hours medical service so they get to the right team straightaway."
Independent Hartlepool councillor Geoff Lilley, of the Save Our Hospital campaign, said: "This is devastating news for a town with a population of 92,000.
"The implications for people in Hartlepool will be significant.
"We thought a 30,000-name petition urging the unit stay open would prove a point. We were wrong."
A review carried out by health professionals, academics and local councillors, said the unit was "not able to provide on site senior medical cover 24 hours a day, seven days a week".
It concluded: "The reality is that over the years the service there has changed and many sick and injured patients already have to go to Stockton for appropriate services."