Hartlepool young carer in bid to start railway station cafe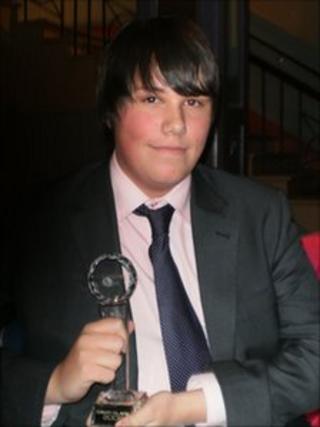 A teenage carer from Hartlepool is hoping to start up his own business with the help of his sick father.
David Clark, 17, from Seaton Carew, has helped to care for his father Michael, who has the heart condition cardiomyopathy, since the age of 11.
Now, the teenager wants to open his own cafe at Hartlepool Station with the help of his father to help his mother, the family's sole bread winner.
He is now bidding for funding from The Prince's Trust.
The venture will be a joint effort, with Mr Clark helping his son with the paperwork and administration of the business, while David will be able to keep a close eye on his father.
David said he had been juggling his studies with caring for his father for more than six years, while his mother went to work.
He said: "It was quite shocking because I didn't know what was happening and it was quite hard learning how to cope.
"It was hard but I knew I had to do it. I did my studies and I helped my dad, I had to balance it all."
'Enormous strain'
After working as a volunteer at Hartlepool station, he said he saw potential in an empty unit and came up with the idea to open a cafe.
He said: "It gives me the opportunity to keep an eye on him [his father] whilst he helps me.
"Because my mother has had to be the sole wage earner, the strain on her has been enormous. This way, we can help her and I can still care for Dad."
David has applied for funding from The Prince's Trust to open the cafe, where he hopes to help young people in unemployment.
He said: "It would be nice to train people in catering so that they can go on to get a job.
"I know I'm doing something good for the community. It will be daunting, but I know I can do it."
David won a Hartlepool Mail Children's Champion award in 2010, scooping the award for Young Persons Champion.