Head teacher appeal to school run 'pyjama parents'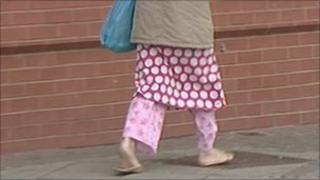 A Middlesbrough head teacher has asked parents to get properly dressed before the school run.
It follows sightings of a number of them still wearing their pyjamas when they brought their children to school.
Some people were even attending meetings at Pallister Park Primary school in their nightwear.
This prompted the school's head, Chris Wain, to send out letters to parents urging them to think about what they were wearing.
Ms Wain said: "What we were seeing was people staying in their pyjamas all day.
"They were dropping their children off in the morning and collecting them in the afternoon wearing the same pyjamas."
Outside the school, one parent, accompanied by a friend in slippers, was wearing leggings over her pyjamas.
She said: "I have to cover up otherwise the school goes mad."
In 2007, the principal of a Northern Ireland primary school also reprimanded parents who regularly turned up at the school gate in their pyjamas.
He said the trend set a bad example to pupils and made staff uncomfortable.