Middlesbrough runners told about city status bid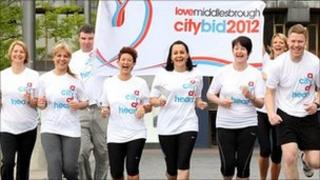 The team behind Middlebrough's bid for city status are to bring their message to the attention of local runners.
The town is one of a number hoping to secure the title as part of the Queen's Diamond Jubilee celebrations in 2012.
More than 1,000 people will be taking part in the "Healthy Town" 5K road race and the 2k fun run on Sunday.
Campaign team members will be taking part and also handing out thousands of flags, stickers and balloons to spread the word.
Sharon Caddell, from the team, said: "Running is becoming more and more popular in Middlesbrough.
"It will be great to have all the runners on Sunday backing the city status campaign because we definitely deserve to be a city."
Other town bidding for city status include Gateshead, Blackpool, Colchester, Croydon and Doncaster.