Ensus biofuel plant in Wilton closes temporarily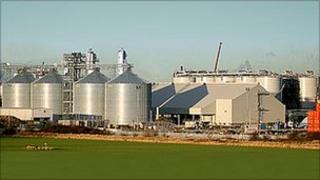 A biofuel plant on Teesside is to close for up to four months, due to adverse market conditions.
Ensus, which produces bioethanol by fermentation at its Wilton refinery, is blaming a lower than anticipated demand, and competition from the US.
However, the company said it was confident this was only a temporary measure and it would continue to pay the 100 staff full wages.
Production will stop at the plant at the end of May.
Ensus utilises more than one million tonnes of wheat a year to produce ethanol, high protein animal feed, and carbon dioxide - which it liquefies and sells to the food and drinks industry.
The company said in a statement: "Ensus remains committed to operating and growing our European business.
"However, to ensure the long-term health of the business for both our customers and our employees we have decided to temporarily shut down our facility whilst market conditions remain depressed.
"We fully expect the market to improve in the coming months as implementation of the regulatory framework for biofuels catches up with the agreed EU legislation."