Chemical firm moves teams to Wynyard Park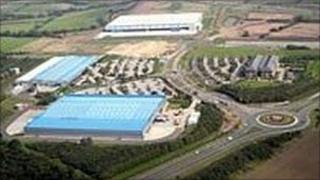 Chemical company Huntsman is moving 290 staff at Wilton and Haverton Hill to one dedicated site at Wynyard Park on Teesside.
It says the combining of its teams will enable it to grow in the global market.
Bosses said the relocation demonstrated their "continued commitment to the North East".
The announcement has been hailed as a massive boost for Wynyard Park and a huge vote of confidence in the Tees Valley and the North East in general.
Chris Musgrave, Wynyard Park Chief Executive, said: "We are proud that one of the world's leading chemical companies has chosen us as the base for the new business centre of its pigments division.
"We started out in 2005 and have since attracted more than £250m of private investment.
"We currently have around 60 companies and in excess of 1,000 people on site, all benefiting from our range of high-quality facilities and services."
$1.5bn global business
The pigments division of Huntsman is taking a 54,000 sq ft building that will include modern purpose-built offices and creating 31,000 sq ft of new laboratory space.
Huntsman Pigments President Simon Turner said: "This relocation demonstrates our continued commitment to the North East where we have operated for many years.
"The pigments division is a $1.5bn global business with manufacturing sites in seven countries on four continents. We are proud to have a major business centre here on Teesside."
Wynyard Park Limited is a joint venture company between JC Musgrave Limited and Helios Properties plc.
The company was formed in 2005 with the purpose of creating a high-class 700-acre mixed use development.