Views sought on Hartlepool electoral changes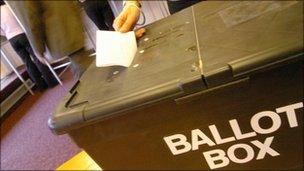 Hartlepool residents are being invited to give their views on electoral reform in the council area.
The Local Government Boundary Commission for England (LGBCE) has recommended dropping the number of councillors to 33, a reduction of 14.
There are also changes proposed to ward boundaries, and the names of the wards.
Information can be viewed on the commission's website, or at council buildings and libraries. People have until 20 June to comment.
The LGBCE said the proposals would lead to a uniform pattern of three-member wards across Hartlepool.
Max Caller, chair of the LGBCE, said: "Having fair electoral boundaries for your council is important. Our review aims to deliver electoral equality for Hartlepool's voters.
"This means that each councillor represents a similar number of people so that everyone's vote in local authority elections is worth roughly the same regardless of where you live."
Related Internet Links
The BBC is not responsible for the content of external sites.