Stockton High Street consultation nears end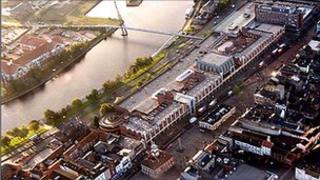 A consultation on plans to improve a high street on Teesside is nearing completion.
Stockton Borough Council has drawn up plans for a £20m investment in the town's high street.
Work is expected to start later this year and could be completed within five years.
The street currently has empty businesses, declining trade and a lack of parking.
An exercise to get the views of local people and businesses on the plans ends on 31 March.
Richard Poundford, head of regeneration at Stockton Borough Council, said: "We've listened to businesses and traders in the town centre, and investors, who say to us: 'Actually, we want people to be able to come into town, park in town, drop into the shops and experience what there is to offer.'"
Earlier this year, former council leader, Labour's Bob Gibson told BBC Tees the street was "beyond redemption".
The council has launched plans to regenerate the area, including a plaza that will open up views of the Infinity Bridge.
There would also be spaces for street performers and the reintroduction of short-stay car parking.
The high street was largely pedestrianised in 2002 in what was then called "an 18-month experiment".
The changes were later made permanent, despite complaints from shoppers, businesses and market traders.
As with many high streets in England, recent years have seen a rise in the number of unoccupied premises in Stockton.
The problem, shop vacancy figures show, is more acute than in other areas and many blame that on out-of-town shopping at Teesside Park, a little over a mile away.
It is hoped the regeneration will allow Stockton town centre to take better advantage of its riverfront location.
The plans for the proposed regeneration of Stockton High Street have been on display for three hours a day at the former Johnson's Dry Cleaners shop on the High Street.
Council staff have been available to answer queries and take on board any views the public might have.
The plans are on display until Thursday.