SSI take control of Teesside Cast Products in Redcar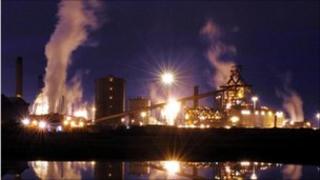 The mothballed Corus steel plant in Redcar has been officially taken over, bringing an estimated 800 new jobs to the site.
Thai firm Sahaviriya Steel Industries (SSI) agreed to buy the Teesside Cast Products plant in August.
Win Viriyaprapaikit, SSI's president, said the completion of the deal was a "historic and wonderful day".
The plant was mothballed in February after a major contract fell through, causing the loss of 1,600 jobs.
Geoff Waterfield, chair of the Multi Unions, said he hoped the takeover would lead to more jobs.
He added: "I never gave up hope that this day would come."
Mr Viriyaprapaikit, said: "We are very excited to be here, to be part of this, I think it is a wonderful place.
"We want to ensure this 170 years of steel making heritage continues.
"We will make sure to put in plans so younger people can learn from this experience and carry on as the next generation of steel makers."
SSI have said the recruitment process for the new jobs will begin in April 2011.