Hartlepool hospital's A&E unit recommended to close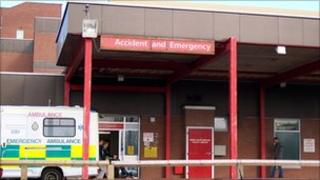 The accident and emergency unit at Hartlepool's University Hospital should be axed, a review has recommended.
The department has struggled to attract enough senior staff to run the service safely, the review found.
But North Tees and Hartlepool NHS Trust said the unit would not close until "safe" alternative services were found.
It is considering providing A&E care at the town's £20m One Life centre in Park Road.
The independent review was carried out by health professionals, academics and local councillors.
Review expert Dr Ed Glucksman, who is based at King's College Hospital in London, said: "There have already been a number of changes to the service to improve the care for patients with trauma, for surgical emergencies and for children.
"The A&E is not able to provide on site senior medical cover 24 hours a day, seven days a week. Therefore, the panel has recommended that the A&E should close."
'Make service safe'
Professor Stephen Singleton, medical director at North East Strategic Health Authority, said many emergency patients were already being diverted to other hospitals.
He said: "The reality is that over the years the service there has changed and many sick and injured patients already have to go to Stockton for appropriate services.
"The biggest problem is sustaining sufficient qualified and senior enough medical staff to make to the service safe."
A group will now be set up to consider the alternatives and it will report on its recommendations in May.