Women's Day event on Middlesbrough's Transporter Bridge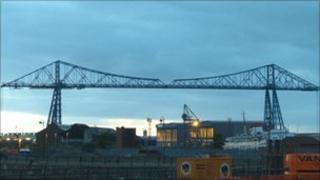 Scores of women are expected to gather at Middlesbrough's Transporter Bridge on Tuesday to mark the 100th International Women's Day.
In an act that will be mirrored by women across the globe, they will join hands to call for greater efforts towards peace around the world.
Organisers said the Middlesbrough event was especially poignant as 2011 was also the centenary of the bridge.
The event begins at the bridge's visitor centre at 1030 GMT.
Those attending will have the opportunity to climb and cross the bridge but are advised to wear sensible shoes.
The event is one of 289 organised at sites including the Golden Gate Bridge in San Francisco, the Sydney Harbour Bridge and the Great Wall of China.
Shahda Khan, Middlesbrough Council's principal community cohesion officer, said: "It celebrates the diversity of our town, and the fact that we're quite welcoming of all cultures and communities, as well as different age groups."