Cumbria school bus crashes in high winds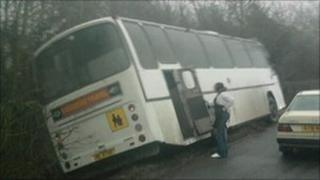 A bus carrying about 15 young children came off the road in north Cumbria and hit trees in high winds.
The single decker coach was on its way from Bowness on Solway school.
It was thought to be heading from Port Carlisle to Glasson when the crash happened at 1540 GMT. The bus came to rest against trees beside the road.
The 50-year-old driver suffered a minor injury. None of the children were hurt. There were strong winds in the area throughout the afternoon.