Ingleby Barwick free school plan given go-ahead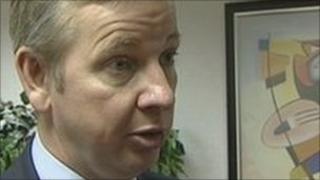 Education Secretary Michael Gove has given the go-ahead to an initial plan for a free school on Teesside.
The school in Ingleby Barwick would be state funded but set up by parents or other community groups and independently run.
Mr Gove met parents and residents who had campaigned for a new secondary school on their estate.
They said their existing school was not big enough for all the local children and many children commuted elsewhere.
A petition has been signed by about 5,000 people supporting the campaign.
Model criticised
Campaigner Frances Lynch said: "The key thing for us is that our children want to be educated in their community. They don't want to be bussed off.
"And you can see that from the demand from the children."
Campaigners now have to draw up a business plan. If that is given the green light then the new school could be open for 750 pupils by 2013.
It is not yet known where the school would be built yet.
Mr Gove said: "So far the Ingleby Barwick team have done all the right things. We are now down to the nitty gritty, looking at a business plan and making sure the money is there.
"But everything I have seen so far has been hopeful which is why we have given initial approval to this plan."
The Free School model, which currently operates in Sweden, has been criticised.
Vince Allen, from the National Union of Teachers said: "The Swedish evidence suggests that those parents that come from a wealthy background and who are themselves well educated are the ones more likely to seek to take their children and those resources out of the education system, leaving the rest of the education system to deal with that."