New Teesside super hospital given go-ahead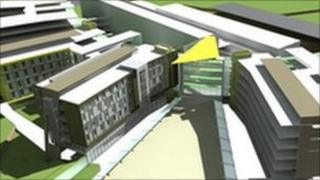 A new super hospital for Teesside looks more likely after a hospital trust board voted unanimously in favour of a new business plan.
The £300m development at Wynyard Park will be paid for by a Private Finance Initiative, (PFI).
The North Tees and Hartlepool NHS Trust says the money will be paid back over 30 years.
But interest and other costs could mean the trust is paying out as much as £22m every year.
Alan Foster, chief executive of the North Tees and Hartlepool NHS Foundation Trust said it was the biggest development the trust would ever make and would serve generations to come.
'Moving services'
He said: "The need for this hospital is not in any doubt. We have looked to make sure we can afford it by moving services onto one site, reducing duplication and getting efficiencies in the design."
Tax payer support for the hospital at Wynyard Park, near Stockton, was axed by Treasury Chief Secretary Danny Alexander last year.
The Teesside scheme, and 12 others nationwide, were scrapped in June 2010 as part of measures by the coalition government to save £2bn.
The Wynyard hospital was originally budgeted at £460m, but after government support was pulled, health bosses decided they wanted to press ahead with a smaller scale project, which would cost about £300m.
'Doing cartwheels'
The trust plans to offset some of the cost by selling off the land of the existing sites in Hartlepool and Stockton and leasing some of the buildings at the new hospital.
But Hartlepool Independent councillor Geoff Lilley, who is also from the Save Our Hospital campaign, says building the hospital with PFI funding is a mistake.
He said: "£22m a year - that is £22m every year that is coming out of patient care."
He said the only people that would be "clapping their hands and doing cartwheels" would be those the money was borrowed from because they would have "got a good deal".