Fall in festive drink-driving arrests on Teesside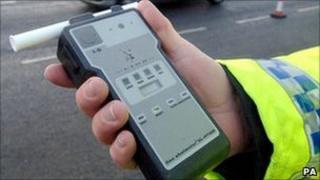 The number of motorists arrested during the festive drink-drive campaign on Teesside was lower than the previous two years, police figures have shown.
Nearly 5% of motorists stopped between 1 December 2010 and 1 January 2011 were found to be impaired through alcohol.
This resulted in 65 arrests under Section 5 of the Road Traffic Act.
The figures were a drop on the 2009 festive season, during which 7.7% of those stopped failed, compared to 6% in 2008.
Throughout the 2010 campaign, no-one was found to be impaired through drugs.
Head of the Roads Policing Unit, Insp Mick Little described the results as "pleasing news", but said it was "disappointing" that some people "chose to be irresponsible and drive while under the influence".
He added: "Throughout the campaign there has been support from the public and we have had a number of drivers that have given us a voluntary breath sample.
"We know that the vast majority of the drivers we stop are law-abiding and would not dream of drink or drug driving."