Teesside's £60m recovery package cut short of target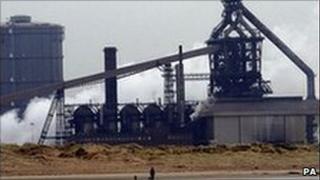 A fund worth £60m designed to help support businesses on Teesside is no longer available.
The fund was set up following the mothballing of Teesside Cast Products to help the region make the transition to low carbon industries.
The government has since decided to abolish regional development agencies, including the region's One North East.
One North East, which was leading the fund, said it could no longer support it - leaving it £18m short.
Redcar and Cleveland Council leader George Dunning described the move as "appalling".
He said: "This £60m was there whether the blast furnace came back on or not.
"We are hoping it will come on very shortly and create a few hundred more jobs.
"But this money was about creating jobs in the private sector."
Mr Dunning said the money was meant to create 3,000 jobs and maintain 10,000 on Teesside. He said the £18m would have helped achieve that.
One North East said the fund, called the Tees Valley Industrial Programme (TVIP) so far had helped a number of companies in the region.
These included investment at Billingham-based Tees Alliance Group. It was offered £1.5m to help the company develop roll tubulars and manufacture the foundations that support wind turbines in the offshore wind industry.
One North East said the project would create 110 new jobs and was expected to safeguard a further 33 jobs.
Final projects
Other investments include a joint venture with Impetus Waste in land remediation on a £2.2m major reclamation project near Billingham and a £2.4m package for apprentices affected by the mothballing of the Teesside Cast Products Redcar plant.
Final projects include a £6.9m towards acquiring a 50-hectare site at Wilton, and £2.2m to improve the road network and access to South Tees Eco Park site.
One North East Deputy Chief Executive Ian Williams said: "TVIP funding has been used to catalyse and accelerate company investments, as part of a plan to help the Tees Valley seize the private sector opportunities in new low carbon technologies.
"We have also made strategic funding approvals that lever additional private investment facilitating the development of new technologies and opening up further investments in future years."