Pasta poison poses problems for Middlesbrough's rats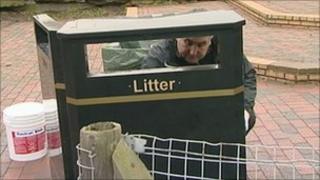 Pest controllers on Teesside have turned to pasta in the battle against rat infestation.
They said rodents have become so used to human company they have developed a taste for pasta, as well as pizza and curry from discarded takeaways.
To reduce the hazards to public health, Middlesbrough Council has been using a pasta-based food laced with poison.
Chris Hudson, senior pest control technician, said it was "doing very well" in controlling the problem.
In areas where there are a number of takeaways, pizza or curry could be also used as a bait.
Rats can transmit a number of diseases which can be potentially fatal to man, such as Weil's disease.
They also carry disease organisms such as Salmonella bacteria, viruses and parasites such as worms and fleas.
Mr Hudson said: "Rats' feeding habits have changed, they've adapted themselves to our lifestyles."
He described the pasta-based poisoned bait as a way of "moving on".
"It's more palatable for rats than the old formulations from the first generation of anti-coagulants," he said.
"At the moment we're holding our own and doing very well with the problems we've got."