Warning after Saltburn pier jump man rescued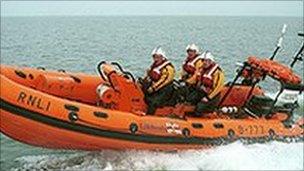 A man who jumped from a pier into the sea needed hospital treatment after he was pulled from the water by surfers.
The man, in his 20s, was one of two men reported to have jumped off Saltburn Pier on Saturday afternoon.
Coastguards and the RNLI were called to the scene and have issued a warning against going into the North Sea because of icy temperatures.
The rescued man was suffering from hypothermia, but the other man managed to get out of the water unaided.
Humber Coastguard said it received a call from a member of the public reporting that two men were in the water near the north of the pier.
One man was said to be in difficulty and was being swept away by the tide.
Coastguard rescue officers from Skinningrove and Redcar were sent to the scene and the Redcar RNLI inshore lifeboat was launched.
Fran Wilkins, watch officer, Humber Maritime Rescue Co-ordination Centre, said: "The man from Saltburn was assisted in the water by some surfers who were able to get him ashore.
"He has now been taken to hospital. The other young man who jumped from the pier is said to be safe and well."
She added: "We cannot stress how dangerous it is to jump from a pier.
"Jumping from height into water is dangerous because water depth alters with the tide and it might be shallower than it appears.
"Also submerged objects like rocks and structures may not be visible and the shock of cold water can make it difficult to swim."
Related Internet Links
The BBC is not responsible for the content of external sites.