Police car involved in crash in Hartlepool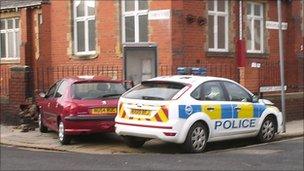 Three people, including the driver of a police car, were taken to hospital after a collision between a patrol car and a Peugeot in Hartlepool.
The force of the impact sent the red Peugeot, driven by a woman with two elderly passengers, crashing into a church wall in Elwick Road.
The injured were taken to the University Hospital of North Tees in Stockton. No-one else was hurt.
An investigating into the incident is under way.
Cleveland police has so far not said whether the patrol car was answering a 999 call or whether it was using a siren, but witnesses have reported seeing the vehicle's blue lights on.
Eyewitness Carl Gorse said: "The police car was coming up at speed with its blue lights on and the other car was turning right.
"The police car swerved round and went straight into the side of the Peugeot and it went straight into the wall.
"The people in the Peugeot went to hospital first by ambulance, then the policeman went later. He had a neck brace on.
"There was a guy sitting on the wall as the crash happened and he was quite lucky to get out of the way in time."
Related Internet Links
The BBC is not responsible for the content of external sites.