Photos of known shoplifters given to Hartlepool stores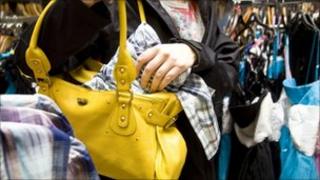 Pocket-size photos of known shoplifters are being given to store owners in Hartlepool in an effort to cut retail crime in the run-up to Christmas.
From Monday extra police patrols will also begin around the town's Middleton Grange shopping centre.
Cleveland Police say they are expecting a surge in offences as cash becomes short due to the state of the economy.
Known offenders featured in the photos are being written to by the Cleveland force informing them of the situation.
A force spokesman said: "Retail crime is often seen as a victimless crime, however it can have a major impact on stores, especially smaller independent retailers who feel the hit the hardest.
"With retailers falling on hard times due to the economic climate, shoplifting can even threaten the town's jobs due to costs associated with it.
"Middleton Grange is a vibrant location and we want to see members of the public accessing the centre without the disruption of crime and anti-social behaviour happening around them."
A recent survey said shoplifters cost UK stores £4.4bn in the year to the end of June.