Teesside Victorian cliff lift gets £30,000 refit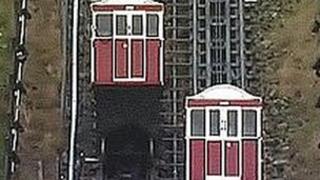 Carriages on a Victorian water-powered cliff lift are to be refitted for the first time in 20 years.
The funicular at Saltburn, on Teesside, was opened in June 1884 to transport people from the town's beach and pier up the steep incline to the cliff top.
Redcar and Cleveland Borough Council is funding a £30,000 overhaul of the carriages.
A huge crane will be used to remove the carriages, which will be taken to a specialist firm in Northumberland.
The project will see improved seating and the striking stained glass windows sealed.
Car overbalances
An intercom system will also be installed to allow drivers at either end of the railway to communicate with passengers in the cars if necessary.
The restored carriages, which have not previously been removed from the site since about 1991, will reopen to the public in April 2011.
Sheelagh Clarke, Redcar and Cleveland Council's cabinet member for culture, leisure and tourism, said: "The cliff lift is an incredibly popular attraction and one which we must do all we can to carefully maintain for future generations.
"Removing the carriages is not something we have done for many years, but it will allow experts to carry out the painstaking work required with this kind of project."
The lift' s two cars are each fitted with a water tank and run on parallel tracks.
The car at the top has its tank filled with water until it overbalances the weight of the car and proceeds down the incline under its own gravity.
When the car reaches the bottom its water is re-pumped to the top and the process begins all over again.
The entire operation is controlled by the brake man from a cabin at the top of the lift.