Teesside family demand answers over 999 call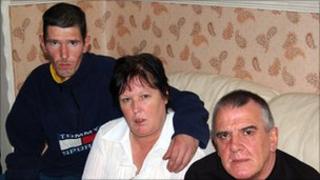 The parents of a Middlesbrough man who say their son died after a 999 call handler refused to send an ambulance fast enough have demanded answers.
Brian Barley, 58, and Barbara Prosser, 56, said their son Steven Barley had suffered a seizure and struggled with chest pains before his death.
The family dialled 999 but were told by a female operator the 24-year-old's condition was not life threatening.
North East Ambulance Service has admitted a mistake was made.
'Impossible to know'
Mr Barley's mother Barbara Prosser, 56, said: "I'm not going to let his death go. I want answers and they will pay.
"I will never let it drop, why should I?"
A statement from the ambulance service said: "Unfortunately in this case, the call handler made a mistake in assessing the patient's condition which led to a delay in an ambulance being sent.
"The time between the first 999 call and the ambulance arriving on scene was 22 minutes.
"It is impossible to know whether the outcome of this case would have been any different with a faster ambulance response."
The incident was reported to the Strategic Health Authority as a Serious Untoward Incident.
An investigation was carried out.
The investigating officer said there were "fundamental mistakes" made in the handling of the call.
Below standards
It said the call fell below standards and, as such, "the clinical essence of the call was lost which resulted in an incorrect disposition being reached".
He added: "The call taker failed to use effective listening skills, demonstrated a blind acceptance of the caller's declared information of 'fit' without any consideration of why the caller would think that the patient had had a fit."
The North East Ambulance Service said since the incident the call handler had returned to work and had been retrained.
Listen to more on this story on BBC Tees between 0600 GMT and 0900 GMT.