Frustration at Middlesbrough homes revamp delay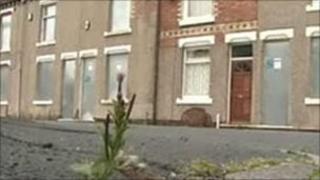 Residents in Middlesbrough have complained about delays to a regeneration scheme.
Middlesbrough Council announced in 2005 plans to demolish 1,500 traditional terraced houses in the Gresham area and replace them with 750 modern homes.
But the scheme failed to attract the anticipated level of public and private investment.
In August, the council announced it was scaling back the plans by going ahead with clearing just 800 properties.
Bulldozers will move in next month to clear about 100 of those properties.
Residents say uncertainty about the future of the community has damaged confidence and driven some people to move out of the area altogether.
Linda Mole, who chairs Gresham Community Council, said: "The people who live here didn't want to invest in their homes because obviously it was under blight."
Efforts hampered
Gordon Mitchell has lived in the area for more than 20 years. His home was originally earmarked for demolition but has now been saved.
He said the council should rethink its approach.
He said: "I would like them to look at refurbishment and forget about demolishing houses which really don't need to be knocked down, particularly when there are no real plans for anything to replace them."
But Middlesbrough Council insists it remains committed to improving and investing in the area.
Though it admits that its efforts have been hampered by a shortage of government investment and the credit crunch.
Labour councillor Charlie Rooney, the council's executive member for regeneration, said: "Crime in this area has gone down and a lot of other resources have been pumped in because of the problems here.
"And the public are fully on board with our ambitions for the area now."
The full story is on The Politics Show, BBC One, midday, Sunday 3 October 2010.