Fears over Teesside 'super-hospital' scrapping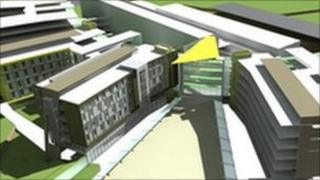 A Teesside MP said he fears the scrapping of plans for a "super-hospital" will damage moves to tackle health inequalities.
The project for the £460m 660-bed hospital at Wynyard Park, near Stockton, was axed by Treasury Chief Secretary Danny Alexander in June.
It would have replaced hospital buildings in Stockton and Hartlepool.
Alex Cunningham, Stockton North Labour MP, told the party's conference it would have been important for the area.
The Teesside scheme and 12 others nationwide were scrapped to save £2bn.
At the time, Mr Alexander said only projects approved by the previous government, which were "affordable and were genuine priorities", would go forward.
Health inequalities
Mr Cunningham said the hospital was approved in March after five years of planning and would have replaced hospital buildings which were "not fit for purpose".
He said: "Many parts of Teesside suffer from serious health inequalities.
"A man living in one of the least deprived areas of Stockton can expect to live just over 10 years longer than a man living in one of the most deprived.
"That is not an area in which a new hospital should be scrapped."
He said he believed progress had been made on tackling health inequalities but was concerned that would not continue.
He said: "My concern is that under this coalition Teesside and the surrounding area will be forgotten and left behind."