Vertical Redcar pier's green credentials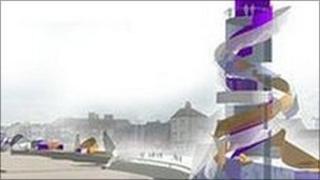 A vertical "pier" set to form the centrepiece of the £30m revamp of a Teesside seafront will boast green technology, its designers have said.
The 80ft (24.3m) structure in Redcar has been designed to minimise energy consumption, and will incorporate renewable technologies.
Where possible, local businesses and suppliers will also be used when work starts in 2011.
The revamp also includes strengthened flood defences and a new promenade.
Lisa McFarlane, from Seven Architecture said: "Air source heat pumps have been selected for use in the vertical pier and will supply part of the energy for the building by extracting warm air and converting it to provide hot water and heating.
"The materials selected will also minimise the risk of deterioration through salt corrosion, sand blasting, tidal surges and the impact of the sun."