Hartlepool council reveals Tall Ships cash shortfall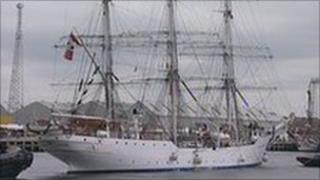 A Teesside council must make up a £720,000 cash shortfall after hosting the Tall Ships Race.
Hartlepool Council said the park and ride scheme did not make as much money as anticipated, but insisted the August event had been a "huge success."
It also said the shortfall could be met through council savings and would not cause a hike in council tax bills.
The event attracted 970,000 visitors and generated an estimated £16m for the local economy, the council said.
A Hartlepool Council report into the event said: "Feedback from organisers Sail Training International (STI) was glowing and officials have said how impressed they were.
"The full impact and economic benefit to the town will not be known until studies are completed, but projections have suggested the figure could be as high as £16m.
'Price worth paying'
"Allowing for last minute cost increases, we anticipated a deficit of £123,000.
"A provisional figure for the event indicates an actual worst case deficit of £720,000."
A spokeman for the council said the park and ride scheme was expected to make £1.2m, but only generated £200,000.
But Hartlepool Mayor Stuart Drummond added: "The Tall Ships event did not bring in as much income as expected which means the council will have to fund the shortfall.
"However, I strongly believe it's a price worth paying. As a town we have to have ambition and be bold."
The Tall Ships Race takes place every summer in European waters.
Up to 6,000 young people from more than 30 countries take part, with at least half of each crew made up of people aged between 15 and 25.