Council rejects offer to buy Hartlepool United ground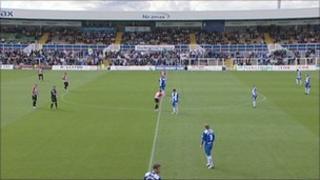 Council bosses in Hartlepool have described as "derisory" an offer from the town's football club to buy its home stadium.
Victoria Park has been home to Hartlepool United since 1908, but club owner IOR (Increased Oil Recovery Ltd) only leases the council-owned site.
Hartlepool Council said it was keen to sell to the club, but only for a price which reflected its market value.
Aberdeen-based IOR said the decision was "extremely disappointing".
A council spokesman said: "The derisory offer made by the club was less than a tenth of the estimated value of the council's interest in the football ground and represented a gross under-valuation.
"It is important to point out that the council has a legal duty to ensure that it gets best value for the town's taxpayers when selling assets.
Commercial confidentiality
"This would not have been the case had we agreed to a sale of Victoria Park and the land to the north on the club's terms.
"Also, in the current difficult economic climate the council is facing severe cuts to its budget and it is important that it maximises its use of assets and income to reduce the impact of these cuts on the local community."
The authority, which came under Labour control after May's election, refused to disclose details of the offer or the rent paid by the club on the grounds of commercial confidentiality.
A club spokesman said: "The initial reaction from IOR and employees at the club is one of extreme disappointment.
"IOR have invested over £12m in to the ground over the last 13 years, in addition to paying annual rent.
"This is the second rejection by the council in recent years and sends the wrong message to the owners and staff."