Fears over Tees Barrage impact on fish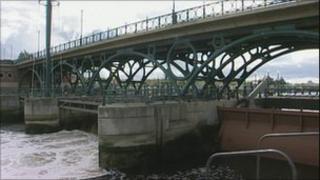 Anglers say they continue to have concerns about the impact of the Tees Barrage on stocks of salmon and sea trout in the river.
The Angling Trust said it was disappointed after none of 72 fish electronically tagged negotiated the barrage to migrate up river to spawn.
It wants to be more involved in plans for developments around the barrage.
British Waterways said it was building two more fish passages as part of a white water course upgrade.
The fish tracking survey is being carried out for British Waterways by the Centre for Environment, Fisheries and Aquaculture Science.
The Angling Trust said it cautiously welcomed work that would increase water flow in the canoe slalom channel and the additional fish passes but still had concerns.
'Positive steps'
Chief executive Nark Lloyd said: "I have been involved in discussions with BW and the EA for five years about this issue and we are very frustrated at the continuing lack of involvement of angling clubs and fishery owners upstream in the process."
British Waterways North East principal waterway engineer Neil Harvey said it had hoped to have addressed anglers' concerns.
He said: "It's correct that the second year results have not reaped the success we had hoped for.
"However we're taking some very positive steps forward as we finalise an agreement to extend the study with the Environment Agency from three to four years."
The Environment Agency said while the passage of tagged fish over the barrage had been low, it had found the numbers of young salmon upstream had increased, which underlined the complexity of the issue.