Redcar vicar claims rape allegation affected his health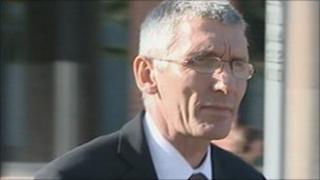 A Teesside vicar accused of raping a schoolgirl told police her claims were "absolute lies", a court has heard.
The Reverend Malcolm Jackson told Teesside Crown Court the teenager's allegations had affected his health.
The 52-year-old vicar of Kirkleatham denies rape, attempted rape, sexual activity with a child and inciting a child to engage in sexual activity.
The court heard the married father-of-three tried to rape the 13-year-old in his church hall office.
The court was told that during the attempted rape Mr Jackson said he had had "the snip" and would not get the girl, who cannot be named for legal reasons, pregnant.
He is also said to have raped her and sexually abused her on two other occasions.
'Under stress'
The jury heard that when Mr Jackson, from Mersey Road, Redcar, was asked by police about the church hall allegation, he said: "I'm shaking my head. I'm stunned. She is lying."
When allegations were made about him forcing her to carry out sex acts, he replied to police: "Lies, absolute lies."
At the end of the interview, he told officers: "I am amazed at the number of allegations she has made against me, to be honest."
Mr Jackson has since separated from his wife and been suspended from his jobs.
Giving evidence, he told his barrister, Adrian Dent: "I have been under a lot of stress for the last few years. My health isn't too good."
The trial continues.