Redcar Corus steel bosses discuss sale with workers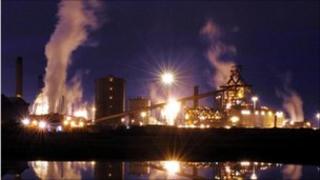 Corus managers have met workers in Redcar to discuss the sale of the £320m plant which could see steel-making return to Teesside.
SSI, which is Thailand's largest steel producer, signed an agreement on Friday to buy Teesside Cast Products (TCP).
If the sale goes ahead it will secure the jobs of 700 workers at the plant and create a significant number of new posts.
Corus estimates steel-making could resume at Redcar by early 2011.
Teesside Cast Products (TCP) was partially mothballed in February when a consortium pulled out of a deal.
Thai steel company SSI has now signed a "memorandum of understanding" to buy the Redcar site from Corus.
Alan Clarke, who is chief executive of regeneration agency One North East and chairman of the Corus Response Group, said: "I'm positively cautious - this is a first step and there are other steps to make.
Drop in trade
"But the company is keen to get steel-making up and running again by 2011.
"This is a real boost to confidence in the town - it will give people pride again."
Union officials have welcomed the potential SSI deal, with Geoff Waterfield, site multi-union chairman, predicting steel-making could resume by Christmas.
Shopkeepers in Redcar have reported a significant drop in trade since the plant was mothballed.
They are now hopeful the good news will boost business.
Drew Moore, who is a manager at Marks and Spencer in the town, said: "The mothballing ripped the heart out of the town and, of course, we were seeing people spending less as Corus employed the majority of the town.
"It is about time the town had good news - this will have a knock-on effect for business in the town once steel-making is up and running again."