Brighton Pride: Pioneers recall early marches 50 years on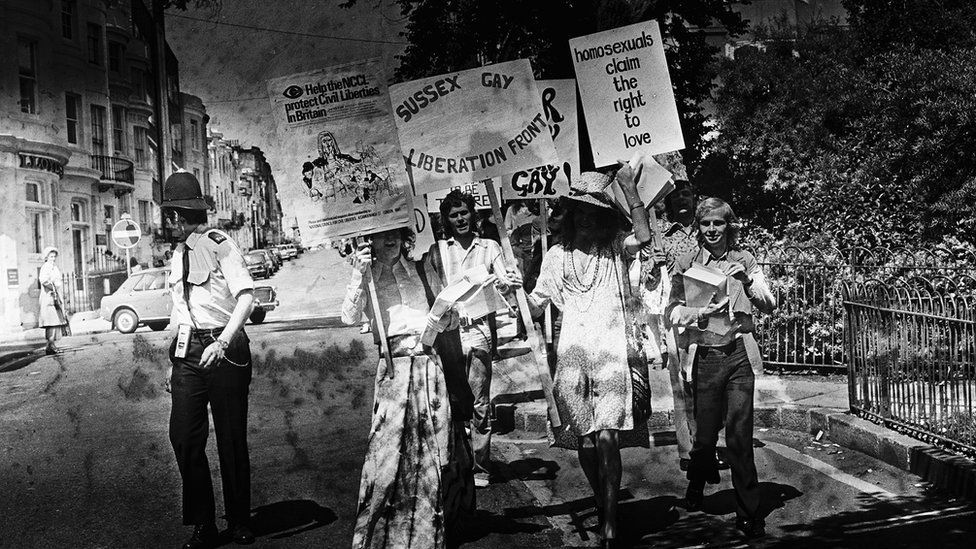 Gay rights pioneers have recalled the early days of the movement ahead of Brighton Pride returning this summer for the first time since the pandemic.
Organised by the Sussex Gay Liberation Front (SGLF), a march in 1972 saw a handful of people gather on Brighton seafront in East Sussex.
SGLF co-founder Mark Rowlands described walking publicly hand-in-hand with his boyfriend at the march as "exciting".
The city held its first official Pride event the following year.
This month marks Pride month, which is dedicated to celebrating LGBTQ+ communities worldwide.
Speaking of the early demonstration in 1972 and ahead of the return of Brighton Pride, Mr Rowlands added: "We wanted people to see us and to know it.
"Up until then people used to say that gay men lived sad, miserable and lonely lives and we weren't. We wanted to prove otherwise."
Campaigners later set up a helpline for the Brighton gay community in 1975, which has since become an LGBTQ+ support service.
LGBTQ+ historian Alf Le Flohic said: "It was originally [called] the Lavender Line but it became Brighton Gay Switchboard and that was another way of contacting people, getting help.
"It stands the test of time that Pride and the switchboard are still going."
Brighton Pride 2022 takes place between 5 to 7 August.
Related Internet Links
The BBC is not responsible for the content of external sites.