Billy Henham: Brighton New Year's Eve party murderers jailed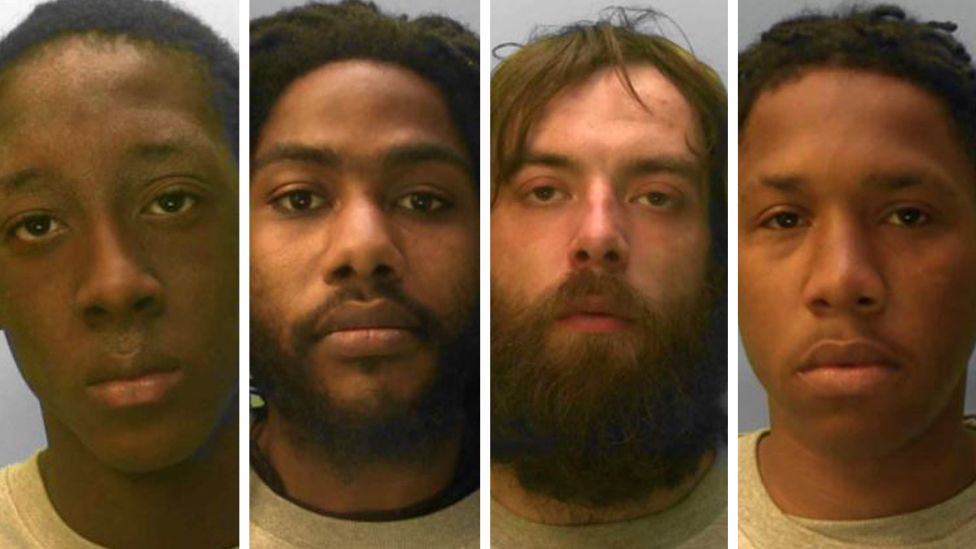 Four men have been sentenced to a total of 86 years for murdering a "kind and peaceful" man at a New Year's Eve party in Brighton.
Billy Henham, 24, was last seen on CCTV early on 1 January 2020 at a shop in North Street. He was found dead at a nearby disused building the next day.
He had been "savagely beaten, kicked, stamped on and struck with a wooden bannister spindle", Sussex Police said.
The four men were sentenced on Friday, having been found guilty in February.
Sentencing the four at Hove Crown Court, the judge, Mr Justice Cavanagh said Mr Henham, who was back home from university for Christmas, had gone out on his own for the night.
He spotted a party in a derelict building at about 04:30 GMT and decided to join in. Less than three hours later he was dead, the judge said.
He said Mr Henham was "intoxicated, but friendly and non-threatening".
He was, Mr Cavanagh said, subjected to a prolonged attack, during which he was "savagely beaten".
The motive for the assault appeared to have been to "punish" him "for some trivial or imagined slight", he added.
Following the sentencing, Mr Henham's father, Ian, said: "We are so angry for what these men did and grateful for the justice they will receive.
"Sadly however, no sentence will give us Bill back but, more importantly, it will not give him the chance to make his mark on the world and follow his dreams in a way that we all strive to do."
Police were called to the disused building on 2 January 2020 after reports a man had been beaten and dropped from a balcony after a party.
A post-mortem examination found Mr Henham, a university student from Henfield, had more than 60 injuries, including a brain haemorrhage, 11 rib fractures and extensive cuts and bruising.
Forensic evidence showed the attack had started on the second floor of the building before Mr Henham was dragged to the first floor and dropped over railings into a recessed courtyard, Sussex Police said.
Dushane Meikle, 28, of Hove, and Gregory Hawley, 29, of no fixed address, were both sentenced to life in prison with a minimum term of 25 years.
Lamech Gordon-Carew, 20, from Hampton, was sentenced to life with a minimum term of 18 years.
Alize Spence, 18, from Croydon, was sentenced to serve a minimum term of 18 years.
Det Supt Alex Geldart said: "Today's sentencing of the four men convicted of Bill's murder is a reflection of the senseless and tragic loss of life. We hope Bill's family will be able to find some closure, knowing that his killers are finally behind bars."
In a statement, the family said they "could not fathom as to why anyone would inflict such cruelty on someone so helpless".
They added: "The events of that night have left us with a Bill-shaped void in our lives.
"We'll strive not to cry too often, but instead smile when we remember his short life, especially because he shared it with us."
Related Internet Links
The BBC is not responsible for the content of external sites.