Brighton Marathon organisers apologise over course that was too long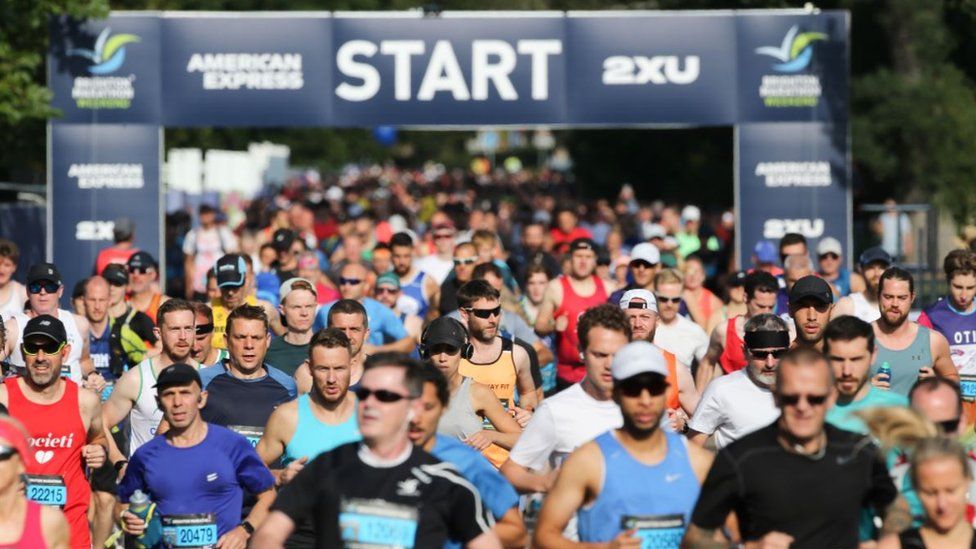 Brighton Marathon organisers have apologised to runners after it emerged the course was 568m (0.35 miles) too long.
About 7,500 marathon participants set off from Preston Park from 09:45 BST on a course they thought was 26.2 miles.
Organisers apologised for the error and said they hoped it had not "marred the experience" for runners.
They said the marathon was a "fantastic comeback" after an 18-month hiatus due to the coronavirus pandemic.
A spokesperson told the BBC: "The mistake was spotted after runners were on the route and therefore could not be rectified.
"The mistake was human error and we apologise sincerely to all of our marathon participants."
Brighton Marathon's statement on Twitter said: "We would like to apologise to our marathon participants that the course today has measured 568m too long.
"We are wholly disappointed that this has affected our runners and hope that it hasn't marred the experience, at what has been a fantastic comeback event after 18 months."
The event, which has taken place since 2010, begins in Preston Park, then snakes its way through the city before finishing on the seafront.
Organisers said the first man to finish was Neil McClements, with a time of 2:33:44, with Ollie Garrod coming in second and Mark Innocenti in third.
Verity Hopkins won the women's race with a time of 2:52:11. She was followed by Amy Harris in second and Lauren Reid in third.
There have been similar issues with the Brighton half marathon - which has different organisers from the full marathon.
Related Internet Links
The BBC is not responsible for the content of external sites.