Crawley College: Man, 18, arrested after gunshots reported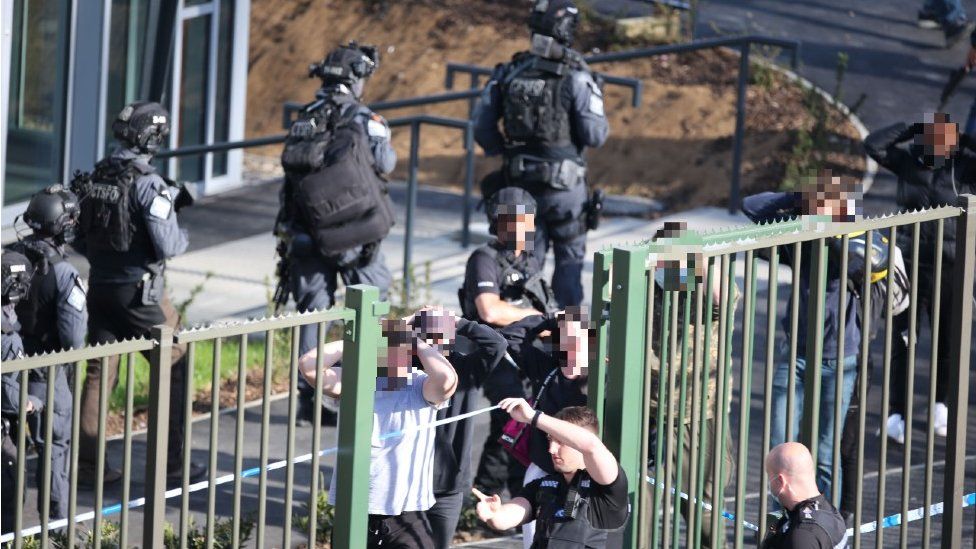 Staff and students were evacuated from a college amid reports of shots being fired on the campus.
An 18-year-old man was arrested and a knife and firearm recovered after armed police swooped on Crawley College.
Unconfirmed reports suggest a staff member tackled the suspect. Video seen by the BBC appears to show a person being held on the ground by several others.
Sussex Police said two staff members sustained minor injuries.
No-one is thought to have been seriously hurt.
Counter-terror police are working with local officers and "all lines of inquiry are open," the force said.
An 18-year-old student, who did not want to be named, said the "frightening experience" had left him feeling shaken up.
"It was quite hectic and it seemed liked something out of a game, like Call of Duty," he continued.
"Everyone was just shouting and screaming and bangs in the background, which some people assumed were gunshots."
Teachers told students to "get under the table and shut the door, just as a precautionary measure," he said.
They later left the college to a "large police presence and police shouting and asking people to show their hands and evacuate the building in an orderly manner," he added.
Video appearing to show a suspect being pinned to the ground has been shared by students on Snapchat.
A student said he believed the footage showed a member of staff tackling the suspect before police "swarmed the area" and made an arrest.
Specialist counter-terror firearms officers were sent to the scene, alongside armed from Sussex and the Metropolitan Police.
Officers searched a property about a mile from the college and helicopters patrolled the area.
Ch Supt Howard Hodges said two members of college staff had "suffered minor injuries and presented themselves to a walk-in medical centre".
The college said it would remain closed on Tuesday and further education provider Chichester College Group, said: "Our priority remains the safety of students and staff."
Related Internet Links
The BBC is not responsible for the content of external sites.