Rake shotgun murders: Families appeal over unsolved 1986 killings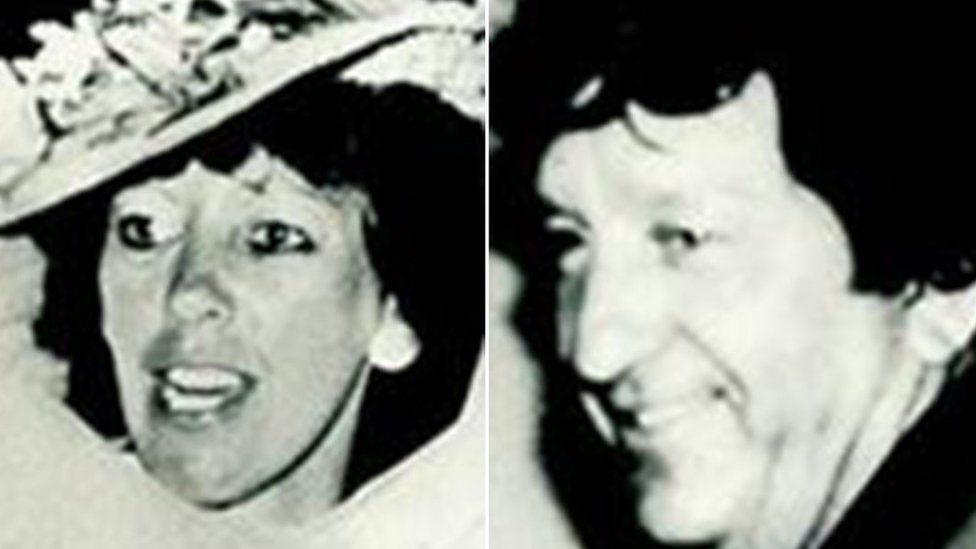 The children of a man shot dead beside his lover 35 years ago believe residents of their hometown could help to finally solve the double murder.
Peter Thurgood and Lindy Benstead, who police say were having an affair, were found dead in woodland in 1986.
David and Terry Thurgood believe somebody living in Whitehill and Bordon in Hampshire could help "put closure to this horrific crime".
"Everyone knew everyone as they were only small villages," they said.
"Somebody must know something... now is the time to come forward to the police and help both our families," they added, in a joint statement.
The pair were killed by shotgun blasts at point-blank range in a clearing on Chapel Common in Rake, West Sussex, on 22 April 1986. They lived in the adjoining villages of Whitehill and Bordon in Hampshire.
Mr Thurgood, who was divorced, had picked up Mrs Benstead, a married mother-of-three, from Old Thorns Golf Club, where she worked as a cleaner.
A few hours later a driver found their bodies near the car in an open area off what was then then the A3, and is now the B2070.
Det Supt Emma Heater said police believed "the answer to the mystery of these dreadful crimes lies somewhere in the Whitehill and Bordon areas".
"It may be that feelings and loyalties have shifted over the years, perhaps to a point at which someone is ready to disclose to us something they have never disclosed before," she added.
In 2018, officers interviewed a witness in the US who named a possible suspect, but police said there was "no evidence to corroborate this allegation".
Forensic analysis was ongoing, using techniques developed since 1986, police said.
Mr Thurgood's sons and Mrs Benstead's daughter, Karen, said in a seperate statement they "remain united in our desire to support any enquiries that will help bring justice and closure for us all".
"It is never too late to do the right thing," they added.
Related Internet Links
The BBC is not responsible for the content of external sites.