Hercule Van Wolfwinkle: Worthing pet artist raises £50k for homeless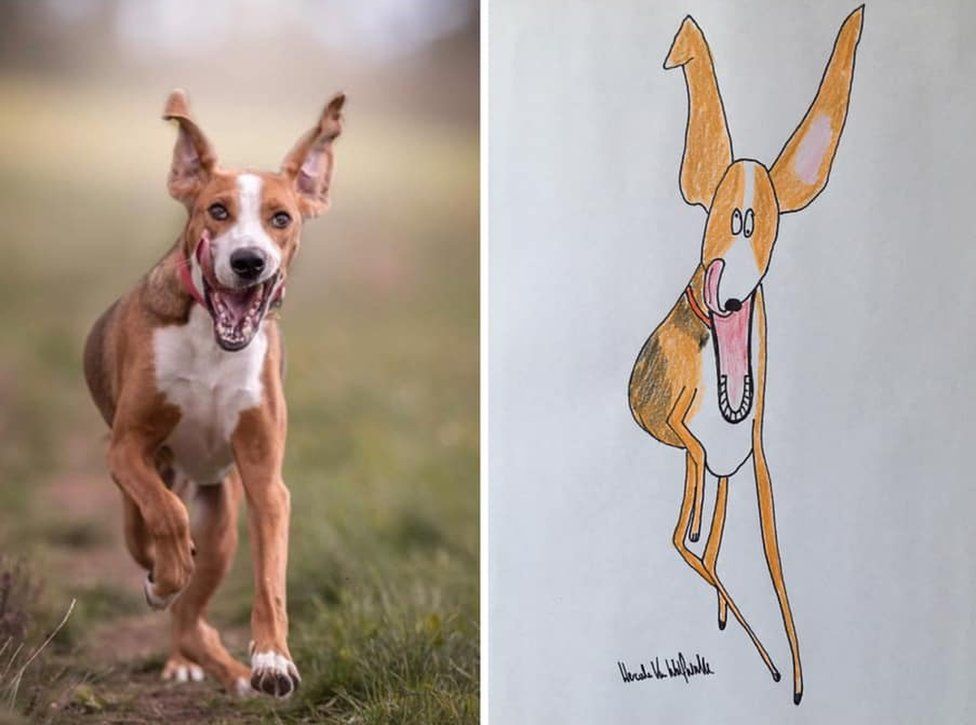 A pet portrait artist has raised £50,000 for a homeless charity with his self-confessed "rubbish" pictures.
Phil Heckels, from Worthing, West Sussex, began working under the alias Hercule Van Wolfwinkle in 2020.
He drew his dog and put it on Facebook, offering paid-for commissions as a joke, but genuine requests flooded in.
His trademark wonky legs and crooked eyes have proved wildly popular with pet owners, with dozens of people contacting him every day.
Additional merchandise has also been created, including tea towels and calendars.
Due to the volume of requests, it is a lottery which he does and does not get to.
The pictures are also accompanied by comedy fake profiles on each pet and reviews from the 'customers', which Hercule writes himself.
The portraits were initially marketed at the joke price of £299, and that became his original fundraising target.
Now he has ambitions to reach £75,000, and has publicly vowed to get his first tattoo - his signature on his buttocks - on reaching that goal.
Hercule said: "This whole thing is absolutely brilliant. To be honest it still doesn't feel real.
"I remember being sat on the sofa with my wife, laughing that we would never reach £299, and now we're here.
"I'd love to do this forever, it's just working out how we keep it going because I've basically created a second full-time job for myself.
"The money and publicity for Turning Tides has been phenomenal."
He said he was "overwhelmed" by the amount raised for Turning Tides - a charity which supports rough sleepers.
A book featuring some of Hercule's artwork is also set to be published in May, with a percentage of the profits also being donated to Turning Tides.
The portraits are not directly paid for.
Anybody can make a donation within their means to Hercule's JustGiving page, and send him a picture to draw.
People were keen to pay him something, but he told the BBC previously that he wouldn't take the money as "the pictures are rubbish".
Related Internet Links
The BBC is not responsible for the content of external sites.