Jackie Hoadley death: Murder arrest after body found at house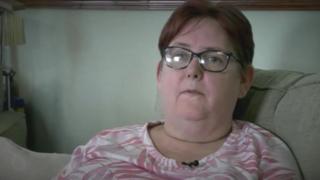 A man has been arrested on suspicion of murder after the body of a disability rights campaigner was found at a house.
Police and paramedics were called to Broad Oak Close, Eastbourne, at 14:00 BST on Sunday, when a visitor to the property raised the alarm.
Sussex Police identified the woman as Jackie Hoadley, who had two disabled children. She suffered serious injuries and was confirmed dead at the scene.
An hour later a 62-year-old man from Eastbourne was arrested in Chailey.
It is understood the man was known to Ms Hoadley and police are not looking for anyone else in connection with her death. He remains in custody.
The man was detained by police officers in the grounds of the Chailey Heritage Foundation, which is a charity providing education and care to disabled children.
A spokesman said: "We take the safety of all of those at Chailey Heritage as paramount, and we had procedures in place should an incident like this occur.
"These procedures were activated immediately and the young people and their support workers were kept safe."
Ms Hoadley, 58, had adopted two severely disabled children who needed to be tube-fed and had campaigned to have the local authority increase its supply of incontinence pads for all disabled children.
Former Eastbourne MP Stephen Lloyd said Ms Hoadley's death was "desperately sad".
He said: "It's knocked me sideways
"I'd like to pay tribute to the amazing work and tenacity Jackie had when it came to the rights of disabled children.
"I remember us going up to Westminster together when the local NHS trust limited the amount of incontinence pads they would supply to disabled children to three a day, which was simply not enough.
"As a result of that lobbying, the trust did a U-turn."