Gatwick Airport delays: Planes leave without passengers' bags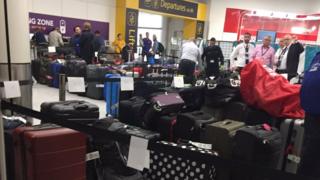 Planes have been forced to take off from Gatwick without passengers' bags after a technical fault.
A breakdown of the baggage belt has also led to long queues at check-in desks at the airport's North Terminal.
Passengers faced delays of more than five hours, while others have arrived at their destination without luggage.
Gatwick apologised for "any inconvenience" and said the fault had now been fixed, with luggage to be "repatriated" on Tuesday or Wednesday.
Yasmin Karabasic, who landed in Dubrovnik, Croatia, to learn her bags had been left behind, said: "It's a bit of a nightmare.
"We got to Gatwick at 5am and it was chaos. The staff had no clue what was going on."
Having run to meet the plane, the trainee lawyer said she had "no idea" her bags had not been loaded and was assured by the pilot all the luggage was on board.
"We landed and thought, can this day get any worse? Everyone was just happy we had got to the flight and made it," she added.
Ms Karabasic, from Portsmouth, said her family and about 30 other passengers - including a couple on honeymoon - appeared to have no luggage.
Hayley Rayner said on Twitter her holiday with her twin babies had been "ruined" after arriving in Spain to find their luggage - including car seats and baby milk - had been left behind.
Sue Tranter, who was due to fly at 08:00 BST, said she had been transferred to a 12:20 flight, which was then rescheduled to 14:15.
"It's a shambles. Easyjet do not seem to know what is going on and so far we have only had one employee apologise to us," she said.
Easyjet, which is one of the airlines affected, said in a statement: "Any passengers who have missed flights because of the resulting congestion at bag drop are being offered free transfers to alternative flights.
"We are both working closely with the airport team to minimise the disruption and return luggage to our passengers as soon as possible."
---