Naked man jumping on roofs closes Brighton's Palace Pier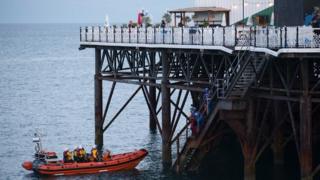 A naked man who jumped across roofs before diving into the sea caused the closure of a pier and tied up emergency staff for more than six hours.
Police, fire and ambulance staff stood by while coastguard and lifeboat crews tried to rescue the man at Brighton's Palace Pier.
He eventually climbed into a lifeboat, having earlier resisted rescue efforts.
Police said the man was taken to hospital for medical treatment and was helping with their investigation.
Dozens of emergency personnel were involved in the operation, which began at about 19:20 BST on Tuesday.
Police and ambulance were called after the man was seen jumping naked between roofs of buildings on the pier.
The pier had to be cleared for the evening as emergency services attempted to talk him down.
Two fire engines and two rescue units were also sent to the scene by East Sussex Fire and Rescue Service, taking the total involved to around 30.
At one point, security guards tried to catch the man but he jumped into the sea, where he was picked up by the coastguard before escaping again and climbing back on to pier buildings.
Jade Cohen, who was among the crew on the Brighton lifeboat, said: "He was quite worried about all the onlookers but didn't want to come anywhere near us."
When he eventually climbed aboard, crews gave him a shower to warm him before he was taken to hospital.
"He said he couldn't remember anything he had done," said Ms Cohen. "He wanted to go back into the warm.
"The sea is about 13C at the moment, so it's very cold. And then he was sitting outside for six hours."
Sussex Police declined to say how many officers were involved in the operation, which finally ended at about 01:30 BST on Wednesday.