St Leonards homes cleared amid industrial building fire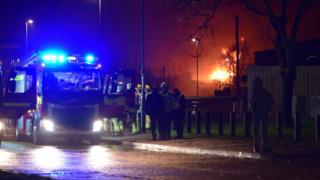 About 50 people have been evacuated from their homes after a fire broke out at an engineering firm.
Locals reported hearing a "very loud explosion" after the blaze at Drallim Industries in Drury Lane, St Leonards-on-Sea, started on Saturday night.
Managing director David Mooney said Millwood House, where the company was based, was "pretty much burnt-out".
East Sussex fire service advised people to keep windows and doors closed. A temporary rest shelter was set up.
Mr Mooney said: "There's nothing left. It's gone."
He said: "They let me walk round the building and it's pretty much burnt-out completely."
Investigations had not finished but there was no suggestion it was arson, he said, adding that the cause of the fire was still unknown.
"It's a huge shock. I'm not sure what we're going to do but we'll do something," he added.
There will be meeting for company staff at the Hastings Centre on Monday to talk about what will happen next, Mr Mooney said.
Resident Justine Davis said on Twitter the explosion from the fire "shook our building and our souls".
Six fire engines were sent to fight the flames at the height of the blaze, and one remained at the scene on Sunday.
The fire service tweeted: "Please don't be alarmed if you can see a large plume of smoke. This was due to an overnight fire in Drury Lane. The incident is in hand but please keep windows and doors closed."
A 200m cordon set up after concerns there may be gas cylinders in the building was later reduced to 60m.
A 5m cordon is now in place around the building because of structural damage.